CIVILIANS AT WAR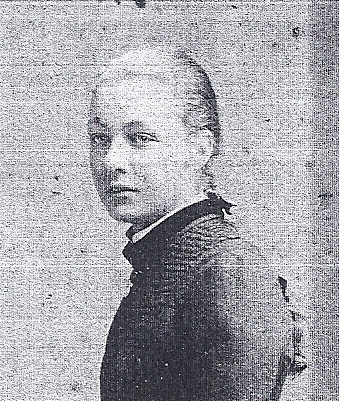 The Hallward Family contributed to the War effort in many ways, both within the services and various voluntary organisations. The children of Thomas Hallward, Rector of Frittenden 1869 to 1899, and his wife Mary (neé Hoare) all contributed.
Mary Hallward, whose diaries have been extensively used in the 'Frittenden War Diaries' and 'The Great War And Frittenden', made an annual summary of the family's contributions:- January 1915:- 'this finds me at Fritt[enden] With Madge & Kathleen, & mother. [Brothers] Henry at QueQue [Kwekwe, Zimbabwe]. Hubert in training at Bournemouth with [sister-in-law] MacM at Dartford. [Sister] Dorothy returned to Bo. last September. The War has been going on for 5 mths.'
By January 1916:- 'M[argaret] is at Havre, K[atherine] going to do censoring in L[iver]pool, J[ohn] just gone to Mirfield [W.Yorkshire], Henry waiting to hear about Alexandria, Herbert with 3/5 Buffs going to Cambridge from Ashford'.
In January 1917:- 'Madge has been a year at Havre doing Y M [CA] canteen work. K[atherine] is at Waltham, running a munitions girls' club. John is still training at Milfield in his 2nd year. Henry censoring at Boulogne since he left the Ministry of Munitions in October. Hubert going to France, for the first time, this week. Tod at Dartford. D[orothy] moved to Salisbury in the autumn.'
1918 finds:- Marg[aret] in Havre, John doing missions etc having professed at Mirfield [The College of the Resurrection, popularly known as Mirfield, is an Anglo-Catholic theological college of the Church of England founded in 1903 in West Yorkshire] in July 1914, Henry in Censoring at Boulogne, Hubert at Crowboro, having left France, K[atherine] is at Waltham X, Tod at Stone House Dartford, Dorothy 2⅟₂m[iles] out of Salisbury'.
Mary was 47 at the outbreak of WWI. The family home at this time was at Parsonage Farm as tenants of the Oakeley Family of Frittenden House. After the death of Mary's mother, she moved to Scarden, Frittenden Road, Staplehurst, but maintained her strong links with Frittenden. She quickly became involved in the War effort, for only eight days after the declaration of war, she records: -
Thursday 13 August 1914: - 'went to Red X practice at the House' [Frittenden House].
She was instrumental, together with her sister Margaret and Helen Inglis (wife of Frittenden's Rector), in placing and funding Belgian Refugees who came to the Parish. She organised their housing and provisioning:-
Saturday 10 October:- 'left [Malvern] at 8.25... came down [to Staplehurst] at 1.15. M[argaret, her sister] met me with bicycles & we went straight to them [Belgian refugees] with Helen who has 3 Belgian refugees who came yest[erday]. They talk French ...staying at Bradbury's [Waller Hill Farm]. K[athleen, Mary's sister] was at Headcorn meeting 2 more & taking them to Mrs Homewood.'
Tuesday 10 November: - 'Dashed down to buy a zinc bath for the Belgians who are washing their clo[thes] today. …Then out again to get celery for the Belgians stewing beef, from F[rank] Bearsby [husband of Alice and market gardener at Fair View], &c. … Happened on a Belgian priest [being brought] to the refugees, so I stayed there. He forbad them to go to our Church alas.'
She helped with the S&SF ([the Soldiers' and Sailors' Families' Association was founded in 1885. In 1919, after the establishment of the RAF, it became a charity which was called the Soldiers', Sailors' and Airmen's Families Association]:-
Thursday 5 November: - 'Emmie drove me and Mrs Benbow [Mabel, born 1862 in Switzerland and Hon. Sec. of the local S&SF, living at Rose Mount (Pound Hill House)] to see the Belgian soldiers in Mrs Hall's hospital'. And
Thursday 6 May 1915: - 'Emmie took me to my first S&SF Association meeting at Cranbrook at 3.30, in the rain. About 7 came.'
She also assisted VADs, in Suffolk when visiting her cousins and also in Cranbrook:-
Wednesday 18 November 1914: - 'Went to Shrubland [Hall convalescent home] again & made swabs for their V.A.D. They are prepared for wounded or convalescents from Ipswich hospital.'
In addition to all these other War works she also records:-
Thursday 3 September 1914 she and her cousins, Isaura and Jacqueline Loraine, did war needlework in the garden.
Friday 16 July 1915:- 'Isaura had some wounded from Shrubland & Ipswich to tea. The Ipswich men were only just up, 2 with only one leg, & one fell down, his first day on crutches – allowed to come out to tea! Another has double pneumonia & has a tube for pleurisy still. V[ery] weak & out in the rain'.
Monday 2 August:- 'Followed J[ohn, her brother, now a priest] to the King's to pick him up for tea for wounded soldiers at Hartridge.'
However, not all opportunities to assist in the War effort appealed:-
Friday 1 October:- at Farnboro[ugh]: 'Henry & I went with Hubert to the aircraft factory to inquire about possible work; but it involved night shifts alternate weeks.'
Wednesday 29 May 1918:- 'I came to Shrublands till Saturday to learn my work as Quartermaster, wh. seems to be mostly in the kitchen.'
Saturday 20 July:- 'After tea I chaperoned 6 Girl Guides being shown how to make aeroplanes!'
Tuesday 13 August:- Northfield, Birmingham 'At 5.30 we walked to the Hostel at Austin's [aeroplane] works, & helped in the canteen 6 to 7.30. Supped there & walked home on a lovely evening about 9.'
The War impacted on life at home early in the War:- Mary noted that Mrs Benbow had heard stories from her sister, who lived on the cliffs between Dover & Deal, 'of huge masses of men in camp there. No lights at night, & martial law in Dover'.
Mary also had direct experience of the War on The Home Front:-
Monday 2 October 1916:- 'High Beech, Epping – … woke at 12 by bombs shaking the house, & in the dark we watched a zeppelin come down in flames, after wriggling in searchlights for ⅟₄hr. Woke again at 1.30 by guns & heard a Zepp. But it went off.'
Saturday 7 July 1917:- 'To the G[irls] F[riendly] S[ociety] annual service at St Pauls', with thanks for sparing St Pauls' in the big air raid this morn[ing] when M & I were kept in the tube by it.'
Thursday 6 December:- 'A raid woke me about 5, our guns mainly, but I heard the enemy machine, on & off, for 1⅟₂hrs. Too cold to get out of bed to see. Heard the whine of shells for the first time'.
Mary's joy at the Armistice did not affect her 'pastoral' work in the parish:-
Monday 11 November 1918:- 'Went to Fritt[enden] to get my winter things. Heard of the Armistice at noon from Hamm who had been to the village. Mr Balmer was getting the flag up on the Church. Everyone beaming. Called on Polly Hodge after her mother's death. Thanksgiving service at 7pm with bells and lights.'
Sunday 17:- 'Peace Thanksgivings… There was a United Service at 3 with Mr Thatcher reading the Bible and making a long & excellent prayer. The Ch[urch] was crowded.'
Margaret Hallward was aged 45 at the outbreak of War. She assisted the Belgian Refugees and went on to other works. Mary records:-
Sunday 8 August 1915: - 'M[argaret] left for a week in Stepney correcting & collecting the Nat[ional] Registration Forms'.
Saturday 4 December:- 'M[argaret] & Bice [Oakeley] left Headcorn at 7.45 for Folkestone, Dieppe & Havre where they will be Y M C A Canteen workers.'
Tuesday 12 June 1916:- 'Breakfasted with Miss Emine & left to go & meet M[argaret] at Waterloo, from Havre. She arrived 11.17. She was home in Oct[ober].'
However, the strain of even non-combatant roles could be severe:-
Tuesday 10 July 1917:- 'Maggie is here convalescing after a nervous breakdown beginning in middle of Jan[uary].'
Katherine, aged 34 at the outbreak of War, was not always successful in achieving the work that she desired:-
Wednesday 2 February 1916:- 'Met K[atherine] in Kingsway for lunch. She is training for postal censor'. But
Thursday 10:- 'Filled window sand bags, wrote to K enclosing letter from J[ohn], saying K ought to settle down in Fritt after being rejected by censor'.
However, not to be dissuaded:-
Friday 10 March:- 'We went to see K's club room [at Waltham X]. Her bed sitting room over a grocer's shop is v. comfortable, if cold & she is v. well looked after. The club is for girls in Nobel's Cartridge factory. She means to go on with it'.
Thursday 21 December:- 'Waltham Abbey where K[atherine] is running the YWCA for Miss Cronin for a month. … K has given up going to her club, the girls don't come. …The place is in debt so she doesn't run to a fire. Tea and supper with the munitions workers'.
FRITTENDEN SCHOOLS
The involvement of the Schools are recorded in the School Log Book. Some examples are:-
Friday 14 August 1914:- 'On Thursday and Friday 15 Scouts have been on duty guarding telephones etc. Excellent attendance otherwise'.
Friday 21 May 1915:- 'the children today contributed 12/6 to the 'Overseas Club' for comforts for sailors and soldiers. Practically all the children brought a small amount'
Wednesday 14 July:- 'French Flag Day. Collected 8/- for the French Relief Fund'
Tuesday 2 May 1916:- ''Pound Day' for West Kent Hospital. Over 1cwt of goods, chiefly groceries, contributed by parents & children were sent to the hospital'
Monday 23 May 1917:- 'A War Savings Association for the children commenced today (scheme 3) and £4-17-9 was collected.'
Thursday 1 November:- "A half holiday this afternoon, the children attending the dedication of a memorial lychgate, erected by relatives and friends of the late Rector, Rev R E Inglis".
Thursday 8:- 'Since April 28th 1917, the children belonging to the War Savings Association – 48 in number – have purchased 62 certificates at 15/6 – an average of about 12 per month'.
HOMEWOOD FAMILY AT [GREAT] BUBHURST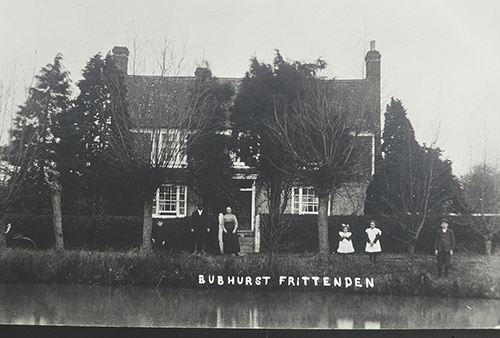 Friday 4 December 1914:- In an exchange of letters between Julia Homewood and her sons, she wrote:- 'Every parish, everywhere, are guarded by our Scouts, and extra ones are on duty of a night, at different roads, even our clergyman [Rupert Inglis] and the only Gentleman with considerable means [Sir Charles Oakeley at Frittenden House], are on night duty. Horses have been taken that are any good, from every parish, fortunately for us, they do not seem to have found us out, I suppose it is we live off the Main Road, we hear that stacks of Hay and Straw have been taken too...'
The children had exciting War experiences:-
Thursday 2 May 1918:- Edith Homewood, 11, wrote in a letter: – "There was an aeroplane came down on Wednesday, just this side of Scott's. There were seven of them all going from Dover to London, they all stopped their engines and when the others started theirs again, he could not get his to start and that is why he came down. All the school-children went to see it at dinner time and took the half-day off. After we had been there a little while three mechanics came over from Staplehurst on their bicycles. Mr Norris [the Headmaster] and Hylda came over while the mechanics were putting the engine right and soon after it went up."
Edith's brother Bobbie wrote that Hylda Norris had persuaded her father to come and he arrived just in time to see it go up. "The next day he said that if we did it again he would stop play for a month and cut down the holidays. While we were there we saw another aeroplane come down in one of our fields. Will [their brother] had just gone from the one at Frittenden and got home just in time to be the first one there. There was only one man in it. He wanted to know the way to Wye and of course Will told him. As he couldn't start himself he told Will to get in the seat and work the levers while he swung the propeller. He done so, and it got off alright".
Sunday 9 August 1914: - Mary Hallward recorded in her diary - 'Mr Inglis preached 2 fine sermons. In the morning on good coming out of the evil of the War – in unity & unselfishness; in the evening on the duty of non-combatant prayer'.
Thursday 3 September: - Mary and her cousins, Isaura and Jacqueline Loraine, did war needlework in the garden.
Monday 14: - Mary 'went to War prayers in the Priory [Malvern] at noon'.
Tuesday 13 October: - 'Spent good deal of time doing and undoing refugee arrangements. Brattles house is off, but Ashbee's [James and Elizabeth Ashbee of The Gables and the shop at Kent House] is on. Went twice to Fanny Pearson [Henrietta Frances Pearson of Jessamine] & Mrs Capeling [Ellen Capeling of Manor Farm]. Bicycles to Hungerden&c to collect subs to keep them for "three months.'
Thursday 29: - 'to the Rectory after breakfast about getting the Belgians to Cranbrook for registration.'
Friday 30: - 'Helen [Inglis] & her cook went to Biddenden Institute to feed the Belgian wounded.'
Tuesday 3 November: - Mary ' I went to Fanny Pearson [at Jessamine] about the refugee house… A large work party, augmented by 5 collectors for Belgians so we were 21 for tea. We went thro' a list of furniture required by Friday'.
Saturday 7: - 'Helen [Inglis] took K[athleen] over to see the Belgian wounded at Cranbrook.'
Wednesday 11: - 'Went to London ... to the skating rink at Aldwych, a clearing house for refugees'.
Thursday 19: - 'Isuara [Loraine, b1884, Mary's cousin] & I drove to Ipswich in gloomy murk to see the depot there for supplying their local D[octo]rs at St Malo. Well organised "Red X" place.'
Saturday 23 January 1915: - 'Brilliant frosty morn. I left Bramford at 9.21. Isaura [Loraine] still in bed; & dawdled up to L'pool St, arriving just before 1 – due 11.15. Troops I 'spose.'
Friday 29: - 'Joan & Helen went last week with the car to La Havre. Jack is in the R[oyal] Nav.
Wednesday 10 March: - 'rushed back to attend lantern war lecture at school'.
Tuesday 16 April: - 'Rode with G[ertrude] to Cranbrook & saw the wounded English in the Vestry Hall. I tea'ed at the Jacksons [Gould Farm, Mill Lane] to meet our Belgians'.
Thursday 6 May: - 'Emmie took me to my first S[oldiers] & S[ailors] F[amilies] Association meeting at Cranbrook at 3.30, in the rain. About 7 came.'
Tuesday 11: - 'Went over to breakfast at Charlwood. Saw Helen off for [British Base Camp at] Havre. She has been home for a week's holiday.'
Friday 28: - Mary 'caught sight of Joan… she returns to [British Base Camp at] Havre tomorrow.' 'Lunched with C & spent over an h[ou]r with our Belgians, over their expenses.'
Thursday 16 September 1915: - Mary at Malvern: 'Bugles woke me at 5.30 & went on. Nellie took me to see Mr Kempson making bomb cases at the engineering shop, soon after'.
Friday 1 October: - Mary at Farnborough:- 'Henry & I went with Hubert to the aircraft factory to inquire about possible work; but it involved night shifts alternate weeks.'
Thursday 7: - 'M[argaret] seemed to spend most of the morn with Emine [Oakeley] Bice [Beatrice Oakeley] & Canteen work at Havre'.
Thursday 21: - 'Spent all day doing S&SFA. M[argaret] arrived from Stepney, bringing news of Havre [nursing] work as [it is] on again.'
Friday 22: - 'Spent the morn combing out S&SFA things'.
Friday 5 November: - Mary: 'Spent the morn at the Belgians' house, with other ladies, sorting out their belongings. The Belgians left for re-allocation from Aldwych'.
Monday 8: - 'Went to Emine [Oakley, Frittenden House] re S&SFA. Read a speech of Asquith after supper'.
Tuesday 15 February 1916: - 'Went to the end of a war work party at Miss Hales'.
Saturday 28 April 1917: – Mary at Plat, Sevenoaks – Helen 'returns to Havre on Thursday'.
Saturday 5 May: - Mary at Charlwood, Surrey, – 'Joan arrived from Havre… Hasn't had leave for a year. We drove out together.'
Tuesday 6 June: – Mary – 'Went down to Helen [Inglis] & heard of Kichener's death in the North Sea off the Orkneys. Couldn't settle to anything after that.'
Saturday 4 August: – Mary - 'We enter on 4th year of war – Services all day & chain of intercessions.'
Tuesday 2 September: –Mary at Waltham X 'We did the dinner shift & in the middle had the air raid warning & left the canteen for an office. Had to stay there an hour. Then finished canteen work, & had our own dinner at 2.50.'
Tuesday 13 November: - Mary at Charlwood, Surrey 'Left Saynden for the 8.30 to meet M coming sooner from Havre cos of a bad cold, & on to Charlwood. M didn't reach Waterloo till 4.45 cos of fog in the Solent'.
Wednesday 14: - '… collected nuts in a sack for the men at Xmas at Havre'.
Tuesday 20: - Mary at High Beech [near Loughton, Essex] - 'We walked home on a mild evening, with a few searchlights about'.
Tuesday 4 December: Mary at Eltham ' Saw M[aggie] off for Havre at 4. She takes her next leave in June… went down to ... Women's Hostels Eltham, SE9 to stay with Jay'.
Wednesday 5: - '... breakfasted in the canteen, of a large sausage, hot toast & hot scone, all v[ery] g[ood]. No sign of rationing the workers'.
Sunday 10 March: - 'Waltham X – Met Jay, who is matron in Quintin Hill Royal Gun Powder Factory'
Tuesday 12: - 'With K to the club at 6.30. Knitted till 9.30! While 20 girls danced in the dust, and drank cocoa and coffee'.
Wednesday 24 April: - 'A women's land army parade, & speeches in St Giles. Princess Mary in Trinity Gardens giving badges.'
Tuesday 30: - Mary at Shandy St, Stepney – 'Went to Jay at 9 to talk about what I am to do, & settled that W X is not the place for me.'
Sunday 12 May: Mary at Bramford 'Bicycled to a sp[ecial] service for the fallen at 6.30.'
Friday 17:- '… went to Shrublands … Saw Gladys afterwards & settled to go there as Quartermaster for July, to give her a holiday.'
Wednesday 28:- Mary at Northfield – 'I went after my tea, to the Beacon Hostel to help in the canteen.'
Tuesday 3 September:- Mary at Northfield – '…went to the canteen. Back to supper as there didn't seem enough food to go round.'