The role of Women
At the beginning of the war, the government showed little recognition of women's potential for service, so women enjoyed unprecedented freedom and scope for organizing. Local groups of women in Kent began to organise themselves to collect funds and goods for distribution to the needy, both at home and on the "front line".
Not only did women have to 'keep the home fires burning', but they took on voluntary employment. Some ladies helped with equipping local schools and large houses as emergency hospitals.
Women and girls set to work knitting hundreds of useful items for soldiers- socks, balaclava helmets, gloves, mufflers and scarves. As the war progressed, more and more items were also needed to clothe and comfort all the wounded soldiers and refugees who passed through the county. Many men had lost all their personal belongings in the trenches and only had the clothes they arrived in, caked with mud and torn to shreds.
Other women collected food and useful items for the parcels sent to the Front, or to British PoWs in Germany. Soldiers relied heavily on these parcels to supplement their monotonous and insufficient diet
As a result of the shortage of men, women also worked on the land and in factories. In particular women were vital in the production of munitions. Hundreds of Kent women worked at the gunpowder mill at Faversham. Filling detonator caps with high explosives was the main and highly dangerous job, but they performed many other tasks such as, riveting, grinding, welding crane driving and packing shells into cases. It was dirty work. The work shifts were long, often ten and a half hours, six days a week. Most got Sunday off to spend with their families. They were making weapons of death, but felt they were making things to bring the war to an end faster, so were usually happy to be working to support their men in Flanders.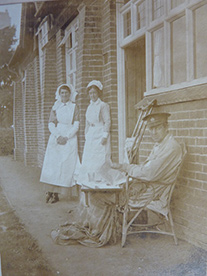 Women were not accepted as soldiers, so many women turned to nursing or voluntary work in hospitals and began to play a vital part in the war effort. As they nursed the wounded Tommies they felt close to their own brothers, fiancés and fathers fighting overseas.
Many of the volunteers joined Voluntary Aid Detachments (VADs). The Kent VAD detachments, whose headquarters were in Bromley, were mobilised in October 1914 when they were notified of the imminent arrival of hundreds of wounded Belgian soldiers evacuated from the battlefields of Flanders.
The Belgians were taken from the Channel ports to towns all over Kent. Many stayed in the hospitals until 1915 when their beds were taken over by the increasing number of British wounded being brought home. Later, nurses looked after Australian and Canadian soldiers. By the end of the war there were 127 VAD detachments in Kent, 95 of which were staffed by women. VAD hospitals in Kent provided accommodation for 4,730 patients. Kent accommodated far more wounded soldiers than any other area of the country and by the end of the war they had cared for 125,000 patients.