The 1911 census provides an insight to the structure of society in Frittenden. It records a population of 898 in 212 households.
FAMILIES
In total there were 152 married couples in the village and there were 27 widows and 23 widowers. 130 of the couples had had children, but 48 families had suffered the death of one or more of their children.
Harriet Velvick of Buckhurst Cottage had suffered more than most, having lost half her 12 children in her 37 year marriage to George. At the time of the census, 3 of their children were still living at home. The largest family was that of Thomas and Maria Ransom who had 14 children in their 52 year marriage, one of whom had died.
POPULATION ORIGINS
The majority of Frittenden residents were born within the county of Kent (715), and the neighbouring counties of Sussex (44), London (30), Hampshire (9) and Essex (8). Of the residents who were born in Kent, 327 of these were born within Frittenden parish. From the rest of the British Isles, six residents came from Scotland and one from Wales. Residents originally born overseas hailed from Ireland, Switzerland, the United States and Australia.
OCCUPATIONS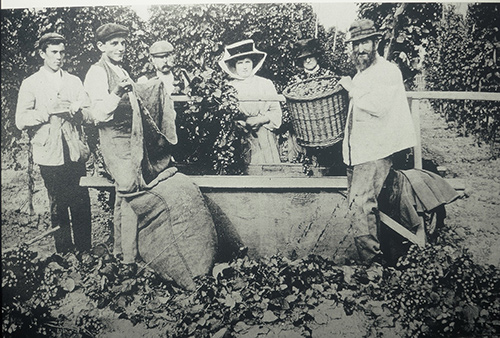 Agriculture was the predominant occupation for Frittenden residents, although fewer than 50% were recorded as employed on the land. There were specialists such as dairy workers or waggoners, as well as farm bailiffs or foremen, but the majority stated agricultural labourer or just that they were working on farm.
Most women did not state any occupation so one can assume that they were preoccupied with running the house and raising the family. Those that did state an occupation were generally in domestic service.
The returns for Frittenden show 28 employers, 212 workers and 40 working on own account.
Few people were able to retire in 1911 (the first 'Old Age Pensions' were paid in 1909 to people aged 70 or more): there were only six residents who stated they were retired in the column marked "Profession or Occupation" and they were three farmers, a civil engineer, an inn keeper and an elementary school mistress. There were only two pensioners: one from the army, the other the navy.
DWELLINGS
There were a total of 220 buildings of which 212 were inhabited.
There were two hoppers houses which the census returns says had a room count of 0, despite the fact that one of these was occupied by two people at the time of the census! This was the hoppers house at Bubhurst Farm, which was occupied by Eli Chapman and his servant, Charlotte Neal.
The majority of dwellings had between 3 and 5 rooms. There were 11 dwellings with 10 rooms and over. The Census enumeratorswere also expected to list the type of dwelling:-
Cottage 133 Dwelling House 2
Farmhouse 33 Oast House 2
Private House 26 Hopper House 2
Lodge Gates 3 Bungalow 1
Public House 3 Mill House 1
Shop 3 Laundry 1
Of the 3 shops listed, 2 were reported as Shop/house.
VILLAGE SERVICES
DRAINAGE
In 1914 there was no mains drainage in the village. All waste went into either cesspits or septic tanks. This, of course, had implications for the many wells in the parish. The existence of 'nuisances', foul water, was a common subject of discussion at Parish Council meetings. Mains drainage did not arrive in the village until 1957, and then only after some debate and a referendum of the villagers.
ELECTRICITY
Electricity was not available in the village until the 1930s. Lighting would have been from oil lamps, candles, and from lights running off of batteries.
POST OFFICE
The Cranbrook Almanac for 1913 refers to James Ashbee as the Sub-Postmaster with the providing of money orders, savings bank and telegraph office. Letters from London arrived from Staplehurst by first post at 7.10am, then 11am and 7.20pm. Letters were despatched at 8.45am, 11.55am and 7.40pm. On Sundays, post arrived at 8.10am and was despatched at 10.20pm. There were four wall letter boxes at Sinkhurst Green, Camden Hill, Gould Farm and Wheeler Street. These were cleared twice each morning and once each evening, Monday to Saturday. On Sundays, these were cleared only in the evening.
TELEGRAPH/TELEPHONE
A Vestry meeting of 1894 agreed to have the telegraph system extended to the village. The installation required a guarantee from the parish but this was rejected by the meeting. However, private individuals agreed to provide the guarantee, for £26 6s 8d from private individuals. In 1911, the cost of a phone line would have been £3.
TRAIN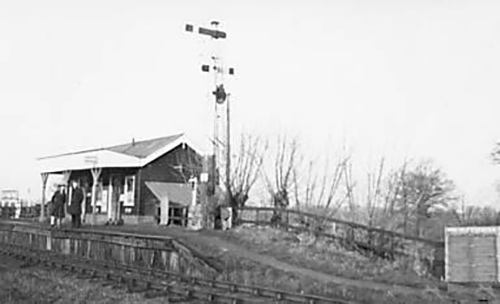 It is of note that the 1913 Kelly's Directory makes no reference to Frittenden Road railway station, only Headcorn and Staplehurst stations on the South Eastern & Chatham Railway. While Mary Hallward refers to collecting items from Frittenden Road station, the only references by returning soldiers are to either Staplehurst or Headcorn stations.
An Act of Parliament of 1896 had permitted the construction of a branch railway line from Robertsbridge to Tenterden. Later that year the Light Railways Act also received Royal Assent and consequently it was decided to build the line under the provisions of this Act. This allowed for cheaper construction; economies being achieved in rail weight, signalling, level crossing arrangements and facilities for passengers at stations, although a speed limit penalty was imposed as a result.
The line opened in March 1900 and was extended to Headcorn, including Frittenden Road Station in May 1905. Frittenden's station, (now the site of Kitchen Updates SE at The Old Station Yard, on the border of the parish with Biddenden) was called 'Frittenden Road' to indicate its distance from the village – almost 2 miles. Frittenden Road became a 'request stop' – passengers would either switch the signal themselves in order to stop the train or, more often, simply wave the train down. Passengers on the train would pull a cord to ring a bell in the driver's cab to indicate that they wished to alight.
The line did not lose its independence until 1948 when it became part of British Railways and the last train ran on 8 January 1954, i.e. before the Beeching cuts.
WATER
Before mains water arrived in the village there were many wells in the parish. Many houses and cottages had their own well. For others there were one or two communal wells. All these wells were refilled by strong springs but most have since been filled in.
TRADE AND INDUSTRY
The 1913 Kelly's Directory shows a variety of businesses and tradesmen in the village.
BAKER
George Couchman was recorded in the census as living at Charity Cottages and was a baker who was also an employer. Joseph Hope was a baker boarding at the White House and James Relf of Brissenden was recorded as assisting baker. It seems likely that all would have worked together.
The bakery, which stood in The Street on the site of the 'Old Bakery', has been demolished, but Tom Maybourne painted a picture of it before demolition.
BLACKSMITHS
James Ealding was the blacksmith at the forge in the centre of the village (now Forge Garage). He lived there with his wife Elizabeth Ann (aged 38) and their son and two daughters.
Robert William Luxford was the blacksmith at Chanceford Corner in 1911. He was aged 37 and had been born in Wrotham Heath. He was married to Irene Harriet, 36, and had a son and daughter both of whom had been born in Ashford.
BOOT MAKER/REPAIRER
George Pope of Rose Cottage stated his occupation as being 'boot maker (dealer)' in the April 1911 census. He was aged 62 and lived with his wife Mary, who was 61. They had 7 children, of whom 2 were still living at Rose Cottage – Margaret, 29, and Ethel, 23. Both daughters' occupations were listed as Draper's Assistant.
William Rofe of Hollenden Cottage was a boot repairer and a single man of 35 years.
BRICK AND TILE MAKERS
The 1911 census records 4 brickmakers in the parish – brothers George (64) and Charles (60) Morphett of Cressland Cottages, Knoxbridge; another Morphett, Harold George (36) from Park Cottages; and Stephen Taylor (67) of Sawmills.
Brick and tile making had traditionally been a rural industry in Kent. Until 1971, Frittenden had its own brick and tile works, situated in Dig Dog Lane. Evidence of the clay extraction can still be seen around the junction of Sand Lane and Dig Dog Lane. At one time the works were owned by Lord Cornwallis, once the largest landowner in both Frittenden and Kent. It was very common for large estates to have their own brickworks in order to maintain their buildings. Indeed the Cornwallis Estate Accounts record sales of tiles and drainage pipes to tenants in Frittenden.
BUILDER
Charles Pearson lived at Jessamine, Wheeler Street, but his timber yard was located opposite the Church. Some of the buildings and the chimney for the steam machinery still exist today and many properties in the village will still have 'Charles Pearson' man-hole covers.
BUTCHERS
Lewis Southon was a butcher situated at Ivy House, where he lived with his new wife, Rosa May. Lewis, 54, was also Frittenden's representative on the Board of Guardians of the Cranbrook Union.
Robert Ward also operated as a butcher from Poundlands/Bailey Farm and Poplar Cottage in the Street. Two of his sons (Frederick George, 29, and Barrington, 25) show occupations of butcher and the third, Robert Frank, 23, was a grocer's assistant. All the boys were born in Northamptonshire, as was their father.
CARRIER & COAL-DEALER
The Cranbrook Almanac and Kelly's Directory refer to Benjamin Hodges as the carrier to Staplehurst and Maidstone every Monday and Thursday, returning the same day. This service left from Benjamin's house, The Poplars, and as there was no omnibus service in the village, it was possible to ride with the carrier. Opportunities to leave the village other than by foot or private carriage was very limited. Benjamin and his wife Annie had three daughters living at home. Mary (37) was a dressmaker, Bessie (32) was a Laundry Manageress while the third, Winifred (26), was married to Ernest Snelling, who 'assisted in the business'. Winifred and Ernest had a daughter, Audrey.
GROCERS/DRAPERS

Manchester House was added to the Bell Inn around 1810. It was occupied by the Ashbees until 1908 when their new shop was built. By 1911 it was the premises of Martins Brothers who were Wallis Davis, aged 31, and his brother, Albert Thomas, 35. Both had been born in Frittenden.
Charles Roberts appears in the 1911 census as a shopkeeper in Church Road (now The Street). It is assumed that this was the shop at Hill House, which was shortly to become Griffins.
Kelly's Directory of 1913 lists Percival Gurr as 'shopkeeper, Knoxbridge', but he wasn't recorded in the census. However, there is a Mabel Elizabeth Gurr, aged 29 and from Sissinghurst, under the census record for Knoxbridge Stores.
James Ashbee also listed his occupation as grocer, draper and general trade. In 1911 he was 44 years old and lived at The Gables with his wife and family. In 1918 James went before Cranbrook Police Court charged with offering margarine (at 1s 2d instead of 1s) and damson jam (1s 6½d instead of 1s 5½d) for sale above the maximum price. Leonard Smith, his assistant, was also charged. There was no proof of sale, although it was possible a mistake had been made. The Bench considered there was no case, and dismissed all the charges.
JACK-OF-ALL TRADES
William Pollington was not only the local bicycle agent, he was also the village photographer. In addition, he was the local hop-sampler and is believed to be the man on the right in the adjacent photograph which was taken at the oasthouse at Gould Farm, Mill Lane.
PUBLIC HOUSES
In January 1912, Robert Frank Wark became the inn-keeper at the New Inn [which became the John Jorrocks (1948), now the Olde Jorrocks]. His wife was Daisy Jane and they had a daughter Madeline.
Dive Bearsby Jnr had taken over the Bell Inn from his father, Dive Snr, on his marriage to Florence Chantler of Parsonage Farm in April 1904. Dive Snr had been a tenant since October 1875. Dive Jnr continued as inn-keeper until his retirement in 1969 when the two pubs amalgamated under the roof of the Bell Inn, ending a Bearsby dynasty at the Bell of 94 years.
The Knoxbridge Inn was run by Charles Le Feaver, 24 and his wife, Norah, 23. They had been born in Marden and Boughton Monchelsea respectively.
CIVIC LEADERS
In 1913, Frittenden had several civic bodies and positions within these were often held by the same men. There was the Parish Council, run on very familiar lines to the current version; and there were the overseers of the Poor Laws. In addition the Idenden Charity, which had 5 trustees, and The Provident Society.
John Blackman - was co-opted to the Parish Council in 1901 and was elected in 1913. His seat was declared vacant by reason of absence in 1915 when he was serving in the War. He was killed in 1917
Ernest Bowles - was elected to the Parish Council in 1901 and served until he resigned in 1923.
Thomas Butler – was a Feoffee (trustee) of the Idenden Charity and lived at Chapel House where he acted as Baptist Minister.
James Capeling - was co-opted onto the Parish Council in 1901 and was then elected from 1904. He was Vice-Chairman from 1903 to 1914 & then Chairman from 1915 to 1919.
Rupert Inglis - was not an elected Parish Councillor, but served as its Chairman from 1903 until he joined the army as a Chaplain in 1915. He was killed in action.
Alfred Millen - known as "Dusty" Millen as his occupation was miller and farmer. Parish Councillor – elected each election up to 1934.
Walter Roseveare –first elected to the Parish Council in 1907, he served as Chairman from 1919 to 1935. He also served as Chairman of Cranbrook Rural District Council.
John Taylor - was elected to the Parish Council in elections in 1901 through to 1919. He also served as an Overseer of the Poor Law and was a Feoffee of the Idenden Charity.
THE POOR LAW
Even though the 1906 Liberal Government had begun to introduce elements of what was to become the Welfare State, the Poor Law continued to be the main source of addressing poverty. The 1834 Poor Law Amendment Act had grouped together parishes to form New Poor Law Unions in order to benefit from economies of scale. Frittenden was part of the Cranbrook Union which also consisted of Cranbrook, Sissinghurst, Hawkhurst, Sandhurst, Benenden and Goudhurst. The Act had also required the establishment of a workhouse to house the poor of the parishes in the Union. The Cranbrook Union Workhouse was built at Hartley on the outskirts of Cranbrook in 1839. The Act also attempted to reduce, and indeed abolish, 'outdoor relief', or the payment of a 'dole' to those able-bodied seeking poor relief, but not in the workhouse.
Even though part of a Union, individual parishes continued to collect a rate to fund poor relief. Parishes also continued to appoint an Overseer who collected the Poor Rate, and was responsible for giving relief within the parish. Until the creation of Parish Councils in 1894, the parish overseer was the main focus of civil administration in the parish. The parish also appointed Guardians to represent the parish on the Union Board.
In 1913, Frittenden's Overseers were: John Taylor and James Capeling. The Assistant Overseer was Frank Bearsby. Frittenden's representative on the Board of Guardians was Lewis Southon of Ivy House.
The poor who lived outside of the workhouse were divided between the Permanent List, of which Frittenden had 9, and the casual recipients who might receive one-off payments or who might be placed in the workhouse at Hartley.
PROVIDENT SOCIETY
This was founded in 1839 and continued for nearly 100 years, closing in June 1939. The object of the Society was to "give relief to the afflicted, at the smallest expense to its members" (all of whom were men). This was achieved by small monthly contributions from its members and subscriptions from honorary members. In return the Society would make payments to members incapable of working not as a result of "his own misconduct, or wanton act". In addition, payments were made upon the death of a member. 'Honorary members', the wealthier members of the parish, were expected to subscribe funds to the society to provide adequate reserves to meet the demands of its members.
In May 1908, the society had some 240 members; paid out sickness benefits totalling £239 15s 10d, and death benefits totalling £52. Members' contributions amounted to £349 and the reserves of the Society were £1,463 18s 11½d. The reserves enabled the club to plan its own building and in 1911 the 'Club House' was built behind the Bell Inn.
CLUB DAY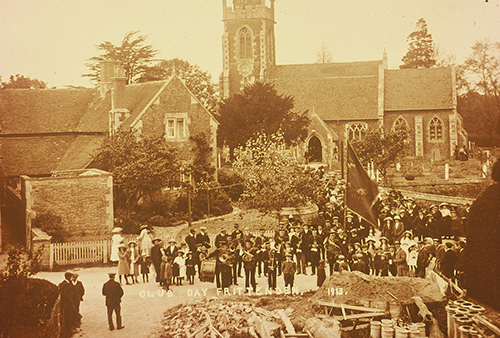 Frittenden Club Day was the annual celebration of the Frittenden Provident Society. In May each year, after the AGM of the Society at 10am in the Bell Inn, the men would form a procession at noon, and headed by a brass band, would march to St Mary's for a service. This would be followed by a parade through the village before what was described as a 'capital dinner' in a marquee, often in the Bell Field.
Honorary members of the Frittenden Provident Society included:
Captain Moore, President of the Society
Charles Pope, Chmn of the Society (farmer from Pound Hill)
James Ashbee (grocer/draper from The Gables)
John Taylor (farmer from Sandhurst Bridge)
Dive Bearsby Snr (retired innkeeper from Belle Vue)
Alfred Millen (miller and farmer from Maplehurst Mill)
Lewis Southon (butcher from Ivy House)
James Harris (farmer from Bailey Farm)
Charles Norris (headmaster from School House)
Robert Ward (farmer from Catherine Wheel)
Thomas Croucher (assurance agent from Hollendene House)
E Potter, Treasurer of the Society
E Bowles, Secretary of the Society
IDENDEN CHARITY
In 1566, Thomas Idenden of Hawkhurst bequeathed certain lands for the use of the poor householders (a term not used since 1954); to provide poor maidens with marriage portions (last made in 1951); or to such deeds of charity as should be thought most needful by the trustees. The property consisted of a house and about 28 acres of land. For many years this was let to the Poor Law Overseers of the parish as a workhouse and farm. Over time the Feoffees (trustees) of the Charity acquired other property in the village which they rented out. The income from this property was distributed among the poor of the parish on 21 December, each year.
After the establishment of the Cranbrook Union Workhouse at Hartley in 1836, the house and farm reverted to the Charity who continued to rent them out in multiple occupancy. At a later date, some of the Charity's land was rented out as allotments. In 1898 the Feoffees erected Jubilee Cottages which were also let out.
The 1914 distribution by the Idenden Trustees was to 114 men and women. The population of Frittenden was 898, thus nearly 13% of the population received charity. However, a household could only receive one charitable gift, and as there were 212 households, some 54% of households were in receipt of charity. Sums paid ranged from 3s to £2.
In addition to the annual distribution, maidens of the parish were provided with marriage portions of 7s 6d each: Flo Velvick and Anna Brown.
The Feoffees sold off their property in 1954 and put the funds into Government Stocks and Charity Commission Funds. The Charity continues today and still makes a distribution on 21 December each year, 452 years since the bequest.
RELIGIOUS HOUSES
St Mary's Parish Church
It is recorded that in 1913 the Church had seating for 380 sittings, of which 180 were rented and the remaining 200 were free. The Rector of St Mary's in 1913 was the Reverend Rupert Edward Inglis his story is reported elsewhere in this exhibition.
Providence or Ebenezer Chapel
Situated on Pound Hill this is now a private residence. The Pastor of the Chapel was Thomas Butler, who was aged 62 in 1911 and had been born in Cranbrook. His wife, Esther, aged 66, was born in Frittenden.
The Chapel was part of the strict Baptist cause, and had been given to the village by James Hickmott of Lashenden.
FRITTENDEN SCHOOL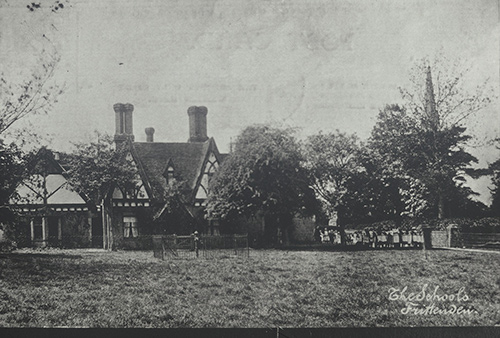 The Staff
The Headmaster of Frittenden School was Charles Matthew Norris. He was married to Kate Emma. They had two children – Herbert Scott and Charles Alec. Charles joined Frittenden School in December 1904 and remained until his death on 17th October 1922. In 1911 he was teaching Standards IV to VII.
Other school staff were: -
Frederick Boddington – uncertified assistant in Standards II and III (40 children). Aged 22 he boarded at Hollenden House. He had been born in Willesden, Middlesex. At the end of July 1911, Mr Boddington was given leave to attend Territorial Camp at Crowborough for a fortnight.
Other staff were:- Evelyn M A Court (28) – uncertified assistant in Standard I (35 children); Charlotte Green (30) – uncertified assistant in Infants Division (37 children); Beatrice Brain (19) – uncertified assistant in Infants Division.
In 1913 it was expected that female teachers be unmarried and as soon as they married they lost their position, without any form of compensation.
LESSONS
Children were taught English, Arithmetic, Geography, History, Nature Study, Drawing, Drill, Singing, Needlework, Handwork, as well as lessons in Scripture.
The classes were not divided by age, but by what standard the child had reached. These went from I through to VII – a summary scheme of instruction for Frittenden School for 1912 shows that Class 1 was Standard I, Class 2 Standards II and III, and Class 3 Standards IV to VII.
The school children had an annual "treat" which was laid on by Capt. and Mrs Oakeley in the grounds of Frittenden House.
The whole school closed for 5 weeks hop-picking holiday on 18th August 1911.