After four long years, Peace
When the guns fell silent at 11am on November 11th 1918, the country erupted, with church bells ringing, street parties and firework displays. The celebrations were tinged with sadness. Thousands of troops from the Kent regiments had lost their lives. Thousands more survived, but with life-changing injuries and mental problems that stayed with them for the rest of their lives.
In contrast to the speed with which the country moved from peace to war in 1914, the transition back to peace took far longer and was just as traumatic. After the first few weeks of celebrations, serious problems began to set in. Conscription continued despite the end of the conflict and demobilisation was painfully slow. What made it frustrating for the longest serving troops was that it appeared that the "last in were the first out". Those who had more recently joined up and whose jobs were still open to them, were demobbed first. There was pressure to send troops into Germany to push for reparation. Put simply, with a peace agreed, the men felt they had done enough fighting and just wanted to go home. Things came to a head in Folkestone in January 1919 when a group of men, returning from leave, arrived in the town. They joined several hundred who were in rest camps waiting to be demobbed or sent back. Two thousand men, unarmed and disciplined demonstrated that they were fed up. Their plan of action was to stop any military vessel leaving for France until they were guaranteed their freedom. It was sheer, open and successful mutiny. Troop trains arriving in Folkestone with more men, on their way back to France, joined the demonstration. The following day a great procession of soldiers, now numbering some 10,000, marched through the town. The townspeople showed their sympathy. Several thousand troops in Dover joined in. Resolution was achieved by concessions from politicians, rather than the military chiefs, who wanted the ringleaders shot for mutiny.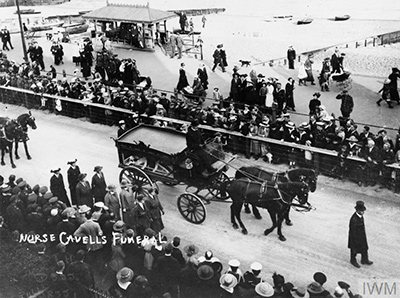 By the middle of 1919 the demob process was almost complete, but the men had returned home to discover that 'The land fit for Heroes' was not what they expected. Official Victory celebrations took place across Kent in July 1919. Plans for the erection of War Memorials followed.
Dover played a key role in two solemn ceremonies, one on May 13th 1919, when the body of Edith Cavell was returned to England. Edith had been executed by firing squad after she had been caught by the Germans helping two British soldiers to escape. The other ceremony, on November 10th 1920, was when the body of the Unknown Warrior was brought home through Dover for burial at Westminster Abbey.

In Folkestone, the road leading down to the docks was renamed Road of Remembrance, a tarn being placed at the top surrounded by rosemary bushes, carrying the inscription: -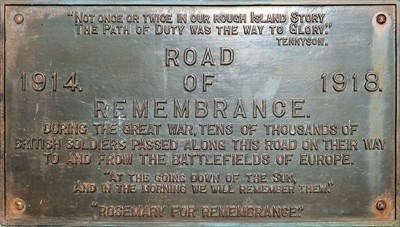 Just one of many lasting reminders of the effect the Great War had on Kent.